Make something gorgeous in my fully-equipped studio in the heart of the Hampshire countryside
Learn a New Craft
With no experience necessary, why not join one of my glass fusion workshops. Come on your own or come with friends to enjoy a relaxed and fun introduction to the techniques of handling art glass. With class sizes of 6, each participant can work with their own set of tools and materials at their own pace with experienced one-to-one guidance. Courses can be booked on-line and you can buy course vouchers for that unique gift.
Develop a Skill
One day 'Taster' and two day 'Beginners' courses available, get an understanding of a wide range of techniques to suit your level of interest. Start by cutting and shaping glass, augment your work with metals and small decorative 'frit' granules and go on to create your own, original designs and see them magically transformed by firing in the kiln. Watch the video to learn more.
Weekend design and make – glass fusion workshop
Oct
3
Sat
2020
Weekend design and make – glass fusion workshop
Oct 3 @ 10:00 am – Oct 4 @ 4:00 pm
Weekend design and make – glass fusion workshop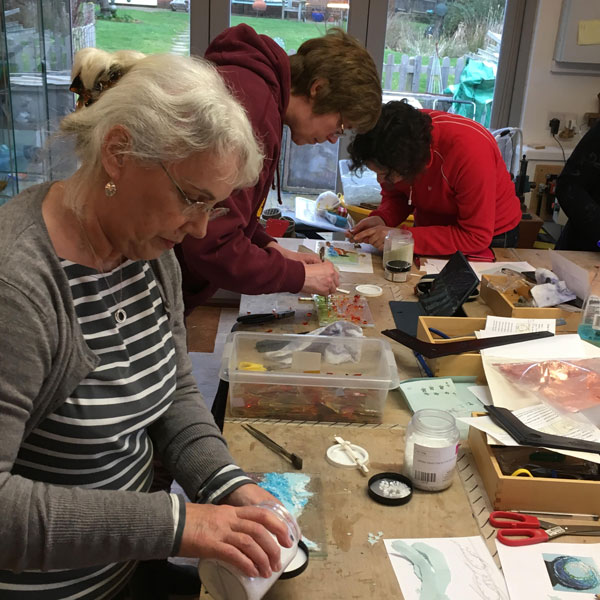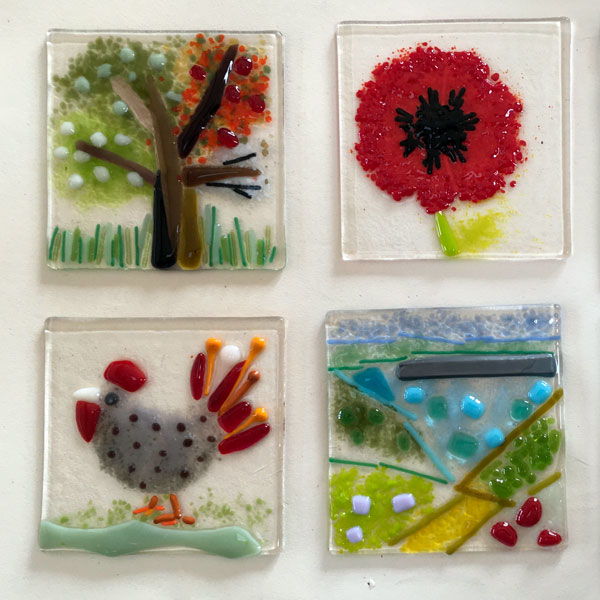 Day One
In this workshop you will gain an understanding for the different techniques, working with Bullseye glass.
In the morning session you will learn how to cut glass, emboss shapes, make inclusions and decorate your work with frits and stringers.
In the afternoon, you will create a flat panel, using what you have learned, ready for firing in the kiln overnight.
Day Two
To start the day, I will unload the kiln so we can review the pieces we made on day one. Following this you will learn some advanced cutting techniques, after which you will design and make two new, original pieces. Later, these two items will be fired in the kiln. One of your pieces will then be 'slumped' over a shaped mould to form either dish or a decorative wave.
A buffet lunch will be provided on both days. Fired works can be collected from the studio at a later date, or posted to you by arrangement. No previous experience required.
Advanced courses
These new courses will be exclusively for students who have attended one of my other courses and wish to develop their skills further. They will be project based using some new, more complex techniques.
Group Courses
A great way to spend time with friends and family doing something creative and fun. Mark events such as weddings, birthdays and anniversaries with something different. Organise a session for members of your club or association.
My Group Workshops can be booked as either the One day Taster, or the Two day Beginner's Course format and are offered at a special discount: 6 participants for the price of 5!
To arrange a Group Course and find suitable available dates, Contact me to arrange a suitable date.
Looking for a gift for someone crafty? Why not buy them a voucher so they can book at a later date? Vouchers cost £140 for One Day Taster Course and £280 for Two Day Beginner Course with savings when you buy more than one voucher