When:
January 11, 2020 @ 10:00 am – January 12, 2020 @ 4:00 pm
2020-01-11T10:00:00+00:00
2020-01-12T16:00:00+00:00
Where:
Near Winchester
19 Bull Farm
Lovedon Lane, Kings Worthy
Winchester SO21 1AQ

Weekend design and make – glass fusion workshop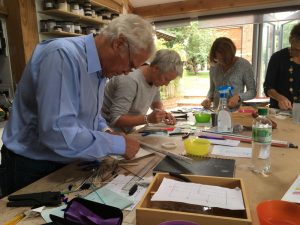 Glass Fusing Workshop – a Two-day Making and Design Workshop
Day One
In this workshop you will gain an understanding for the different techniques, working with Bullseye glass.
In the morning session you will learn how to cut glass, emboss shapes, make inclusions and decorate your work with frits and stringers.
We will take a break during which I will provide a buffet lunch.
In the afternoon, you will create a flat panel, using what you have learned, ready for firing in the kiln overnight.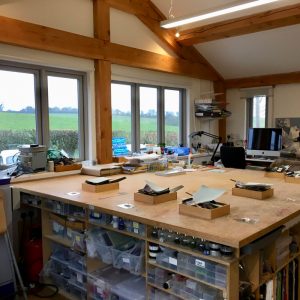 Day Two
To start the day, I will unload the kiln so we can review the pieces we made on Day One.
Following this you will learn some advanced cutting techniques, after which you will design and make two new, original pieces. Later, these two items will be fired in the kiln.
At the end of the day's session, one of your pieces will be refired and 'slumped' over a shaped mould to form either dish or a decorative wave.
Fired works can be collected from the studio at a later date, or posted to you by arrangement.
Cost: £280 per person